FOCA, a membership-based organization, continues its 50-year tradition of funding important exhibitions for contemporary California artists. Sponsoring California artists, curators, their exhibitions, and activities is at the heart of FOCA's mission. This is accomplished with three awards – the Curators Award, FOCAFellowships, and the Curators Lab. 
Publications from exhibitions are listed below and maintained in our archives.
Sponsors exhibitions of California artists proposed by one or more curators that are held in California museums and other art venues. FOCA underwrites the cost of each exhibition catalog and other documentation. Through this endeavor, FOCA has established an impressive historical record of the work of California artists and curators.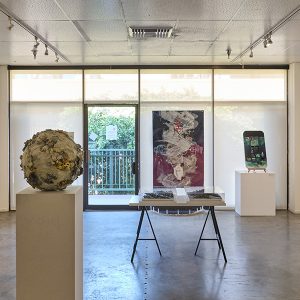 Underwrites exhibitions and documentation proposed by emerging curators whose work is shown at FOCA's exhibition space in Chinatown, Los Angeles.
Three artists will receive FOCAFellowships in Summer 2023.
Inaugurated in 2005 celebrating FOCA's 30th Anniversary, this award is a biennial, unrestricted grant for up to three artists with an exhibition history of ten years or more. A panel of distinguished curators nominate the artists who are then invited to apply for the award.  Jurors, who are prominent arts professionals in the community, evaluate and select the artists for FOCAFellowships. Two years later, the same jurors become the next nominators.
One of the guiding principles of the Fellows of Contemporary Art is to provide funding for exhibition catalogs.